Home

Be Your Own Brand
Custom Coffee Programs
Private Label Coffee
Micro-Label Program
Custom Blending

Custom Packaging Options
Foil Gusseted Bags
Stand-Up Pouches
Metallized Rollstock
Foil Rollstock

Why Roast With CCC?

Really Great Coffees
- Specialty Coffee
- Fair Trade Coffees
- Rainforest Alliance Coffees
- Shade-Grown Coffee
- Bird-Friendly Coffees
- Organic Coffees
- Decaffeinated Coffees

Fundraising With CCC

Contact Us

About Us




Rainforest Alliance
Protecting the Forest, The People and You
The Rainforest Alliance, founded in 1987, is a Non-Governmental Organization (NGO) working to conserve biodiversity and ensure sustainable livelihoods by transforming land-use practices, business practices and consumer behavior. Based in New York City, with offices throughout the United States and worldwide, the Rainforest Alliance works with people whose livelihoods depend on the land, helping them transform the way they grow food, harvest wood and host travelers. From large multinational corporations to small, community-based cooperatives, they involve businesses and consumers worldwide in their efforts to bring responsibly produced goods and services to a global marketplace where the demand for sustainability is growing steadily.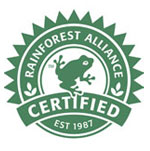 The Rainforest Alliance Certified Seal



The Rainforest Alliance Certified Seal appears only on products that meet the organization's crop standards and criteria. Consumer Reports recently judged the Rainforest Alliance Certified seal on agricultural products to be "highly meaningful." They noted that "The Rainforest Alliance Certified label is clear and meaningful in support of sustainable agriculture, social responsibility and integrated pest management. The label is consistent in meaning among all certified. The label does not consist of farmers and none of the members are certified by the Rainforest Alliance. In this sense, the organizations behind these labels are independent from the products they certify."In February 2008, Ethical Corporation called Rainforest Alliance certification a "rigorous, independently verified scheme."